For many new cyclists in the Tour CIBC Charles-Bruneau, it is the motivation and commitment of a colleague to the cause that acts as a spark. At Cascades, one of them is Yves Bienvenue. The experienced cyclist agreed to answer a few questions to tell us about his great interest in the cause and the involvement of his employer and colleagues.
"I've been participating in the Tour CIBC Charles-Bruneau for seven years. I remember that at the beginning, the Tour brought together 28 cyclists, and that the total amount of donations was about $250,000. What a progression!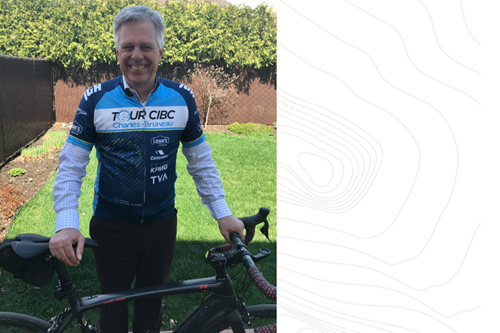 When I arrived at Cascades, since I was already a cyclist, I was asked if I was interested in participating in the Tour CIBC Charles-Bruneau. I said yes without really knowing what to expect. I didn't know that once I had taken part in an activity for a cause like this, I would absolutely want to participate again! This is my way of making a small contribution to help children recover from this terrible disease.
There are many reasons why I am so motivated, but the main one is that the money raised really does translate into results, by funding research, discovering new treatments and updating equipment. However, the work is not over, there are still sick children. As Pierre Bruneau says so well, and I share his comment: "I dream of closing the Foundation because there are no more children with cancer." For me, this is a very good source of motivation.
I am flattered to hear that I was able to convince some of my colleagues to participate in the Tour CIBC Charles-Bruneau, but I believe that the cause itself motivates people to participate and contribute. In addition, the fact that the company's senior executives encourage and participate in the Tour creates a momentum that allows people to be motivated and involved in the cause.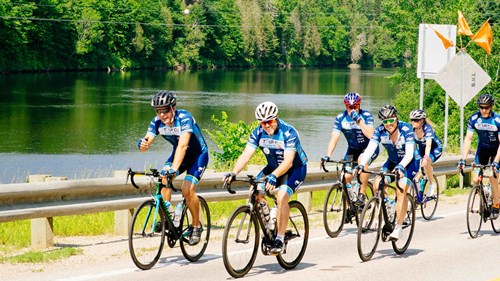 Among my colleagues, there are many who do not ride but contribute with their donations. These people are very important to the success of the event and we must not forget them. They are especially important when it comes to organizing different fundraising activities. At Cascades, one of the main activities is the sale of toilet paper and paper towels. We are always very successful with this initiative! It has even become part of people's habits and they ask us when the sale will take place. It has become a ritual. Of course, there are other activities such as poutine dinners, half and half draws... Our suppliers and partners also contribute to our fundraising efforts.
I enjoy participating in the Tour with my colleagues. I think it's a great way to make new work friends and get to know people from a different perspective than work.
I am proud to be part of the Cascades team, a company for which it is important to get involved in different causes in order to give back to the community. Thanks to the founders, the Lemaire brothers, this is part of the company's culture.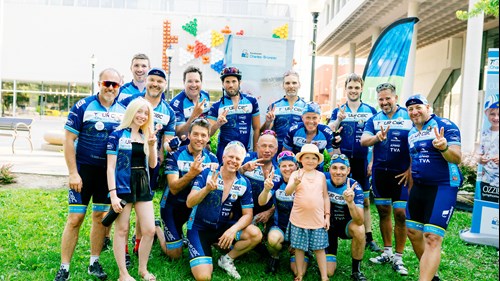 Pedaling for the Fondation Charles-Bruneau is a privilege, and we are lucky to be able to do so. Helping others who are not so lucky is the least we can do.
Thank you to Mr. Bienvenue, to all his teammates and to Cascades for their precious involvement. Follow this link to encourage the Cascades team in the CIBC Charles-Bruneau Tour.