"I made the spur-of-the-moment decision to pedal for my boy. Raising funds for the foundation that saved my son's life was something I had to do. Because through research, new treatments are developed, and thanks to those treatments Logan is alive and healthy today.
Our story began on October 4, 2018 at 8:38 p.m. Barely eight months after the birth of our child, we learned that he had a neuroblastoma, a type of cancer diagnosed mainly among infants.
We did our best to support our son Logan. In spite of his suffering, we learned a great deal during our many months at the hospital. We saw ample proof that Logan is a fighter, a strong boy with a personality you might describe as "intense." Along the way, in fact, we often reminded ourselves that it was probably because of that strength of character that he was able to win his battle against the disease.
Today, at age 3, Logan is in remission. He has made us so proud as parents, and now it's our turn to make him proud.
I decided to pay tribute to him by cycling 80 km (nothing less) as part of this year's Tour CIBC Charles-Bruneau. I know that cycling 80 km is nothing compared to what he has achieved, but still, I do it for myself and above all for him.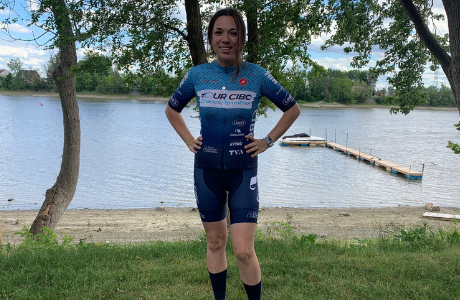 My desire is to raise funds for my son, but also for all the other children who are unfortunate enough to have to fight for their lives. I will meet this personal challenge on my birthday, with the greatest gift of all waiting for me at the finish line: my son Logan, alive and healthy!
Do you want to help cyclists like me meet this challenge on behalf of our children? You can encourage them by making a donation to the Foundation. You, too, will feel the sense of pride that comes from helping save the lives of others like Logan. And remember that there is no such thing as a small donation, but only big hearts.
Thank you, Logan, thank you for all that you've done.
Each day, you inspire me to be a better person and a better mother. And all of this I do for you and thanks to you.