Steve Dion, proud cyclist with Team RONA, has been taking part in the Tour CIBC Charles-Bruneau since the very beginning of the company's involvement, eight years ago.  A true pillar of the team, he agreed to talk to us about his great devotion to the mission of the Charles-Bruneau Foundation and his employer's involvement. 
"What motivates me is to be able to make a difference in my own way, and to be an inspiration to my children, who are also involved with the Charles-Bruneau Foundation." For Steve Dion, involvement in the cause is a family affair. 
"My wife is a volunteer, and she organizes fund-raising projects with her elementary students and groups of young people with special needs. We want to make this Foundation shine in many areas of our lives," he says.  
On July 7, he will be setting off from St-Hyacinthe on the "Parcours de la Générosité". Surrounded by his family. "When you get up on the morning of the Tour at 3:00 a.m. with your sons and spouse to do an activity as a family with a common goal and a sense of accomplishment, there's no better feeling." 
A team ready to go the extra mile for the cause 
According to Steve Dion, the RONA team is highly motivated for the Tour CIBC Charles-Bruneau! "We're convinced that as a team we can make a difference.  
Through his various fundraising activities, he has received a great deal of support from his teammates. "My colleagues encourage me and I believe, quite modestly, that my achievements, my fundraising and their contributions, allow them to be proud that they can also make a difference." 
RONA has been a partner of the Tour CIBC Charles-Bruneau for the past eight years. Since then, $3.7 million has been raised for a childhood without cancer.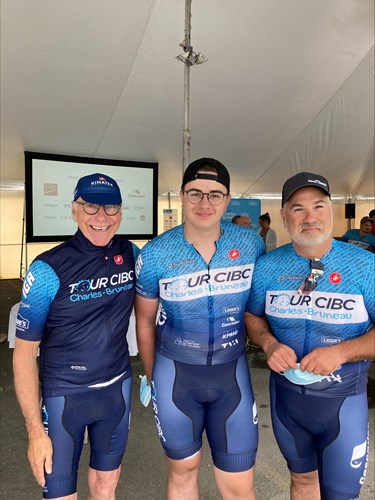 "Knowing that my employer is behind me in this challenge motivates me even more and ensures that I don't feel alone. With my family and employer behind me, I'm sure to perform! The trick is to get people involved in your projects and make them feel the satisfaction of reaching your fund-raising goal.  
In short, cyclists must not give up, and children and families can count on the Dion family to help them!" 
Thanks to Steve Dion, his family and his colleagues at RONA for their invaluable involvement. To encourage the cyclists who will be pedaling in the Tour CIBC Charles-Bruneau, make a donation to the RONA team.