For a 2nd year, the Tour CIBC Charles-Bruneau fundraising recognition program is back. This initiative was put in place by the Fondation Charles-Bruneau team to recognize the extraordinary fundraising results of some of the Tour's participants, and allow them to be recognized in front of their peers. It's also a way of encouraging participants on every route to surpass themselves in their fundraising efforts.
At the closing ceremony of the 27th edition of the Tour CIBC Charles-Bruneau on July 7, the recognition jerseys were presented by the event's four major partners.
Red jersey presented by RONA
"We had the pleasure of presenting the red jersey to the cyclist who raised the most funds in relation to his or her initial objective. Like the best climbers in the Tour de France, this person has surpassed himself to reach great heights! He took part in the 2-day Sherbrooke route and raised $63,307: Luc D'aigle, merchant-owner of IGA extra Daigle supermarkets."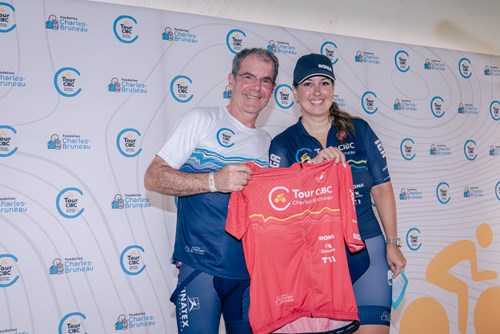 Green jersey presented by Cascades
"We are proud to have awarded the green jersey to the cyclist who collected the greatest number of donations. We're not talking about the highest total amount, but the quantity of donations. It takes tenacity all the way to the finish line to accumulate a significant sum, and that's with donations of $10, $20 and $50! This person took part in the Tour for the first time this year, on the 4-day course, no less. She raised $56,647 with a total of 1,021 different donations: Karine Mainville, Jacob's mom and captain of Team Jacob Strong, in honor of her son."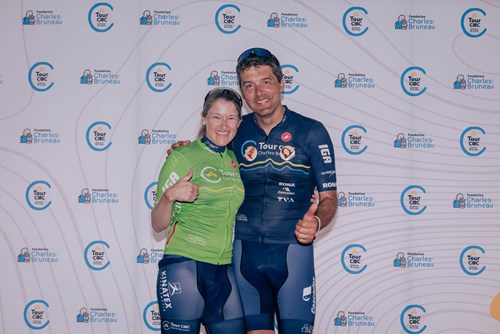 White jersey presented by IGA
"IGA was proud to present the white jersey to the cyclist under 40 who raised the most money. It is with pleasure that we underline and remind the importance of the next generation in the Tour CIBC Charles-Bruneau. We still have a long way to go to achieve a cancer-free childhood, and we need your help! He took part in the 4-day event and raised $24,473: Tyler Harden, co-president and general manager of Harden and treasurer of the board of directors of the Charles-Bruneau Foundation."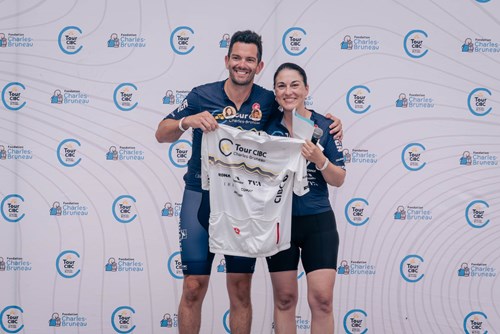 Yellow jersey presented by CIBC
"The CIBC team was honoured to present the yellow jersey to the person who raised the most money of all the cyclists. It takes a lot of willpower, possibly persuasion, commitment and a heart on your sleeve to raise such sums. By participating in the Générosité course, this person raised $174,005: Amélie Savoie, Vice-President, Marketing at RONA".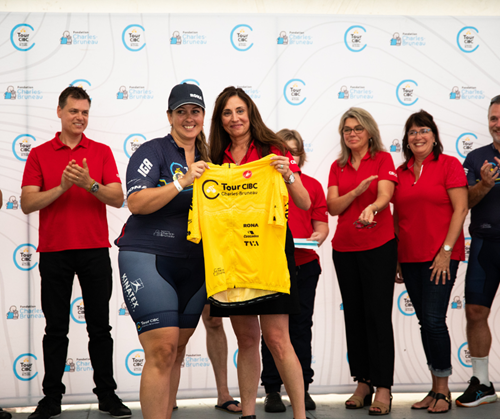 Congratulations to all for your exceptional dedication!